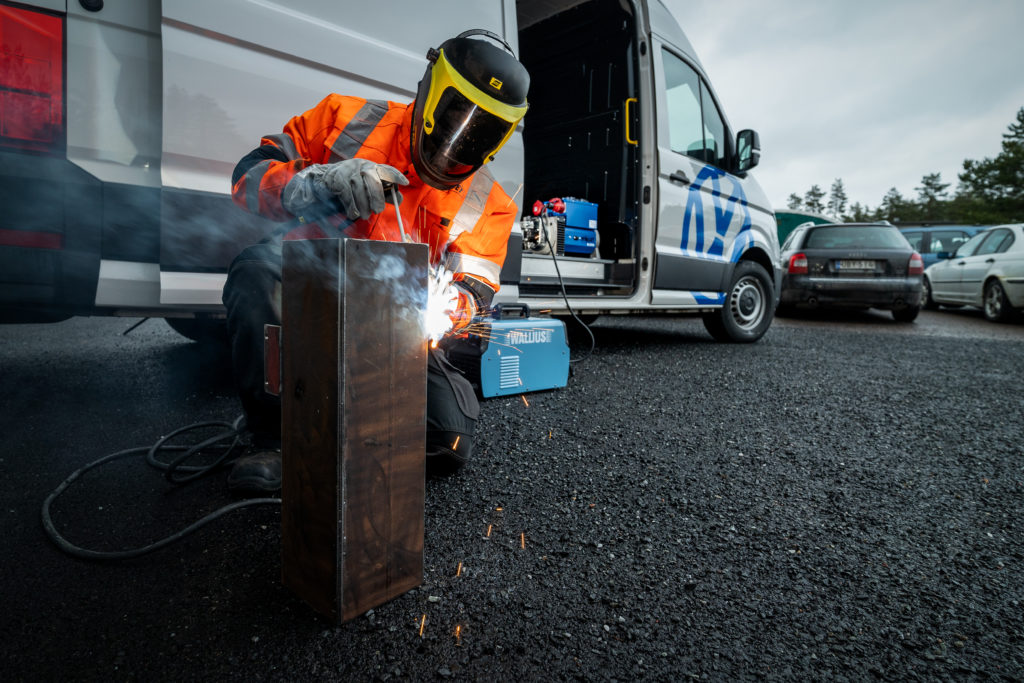 The New Super Compact Model of DYNASET HG Hydraulic Generator
The New Super Compact models of the DYNASET Hydraulic Generator were released in March. The hydraulic generators are lighter and smaller than ever. They can be up to 95% smaller than diesel generators with equivalent power. In addition to the smallest dimensions, the new models produce the best electricity quality due to automatic voltage regulator combined with automatic frequency control.
DYNASET HG Hydraulic Generator converts the hydraulic power of machines, vehicles and vessels into electricity. Dynaset provides hydraulic generators with a power range of 3.5 kVA – 350 kVA with outstanding reliability and the most compact size alongside with worldwide support.
The New 60HZ Hydraulic Generator Models
Dynaset releases a completely new set of standard HG Hydraulic Generator models with 60 HZ frequency. The six new standard 60Hz models operate in the power range of 3.7 kW – 30 kW. The more powerful models are available by request. The Super Compact hydraulic generator models have NEMA 3 rating.
Most of the standard generator models produce steady 240 VAC electricity. Standard models of 3.7 kW and 6 kW are available at 120 VAC. Dynaset can also adjust the voltage by a customer's preference. Dynaset HG Hydraulic Generators are light-weight and the most compact in size enabling the easy installation on any vehicle. They have a robust design and their UL Certificate is pending.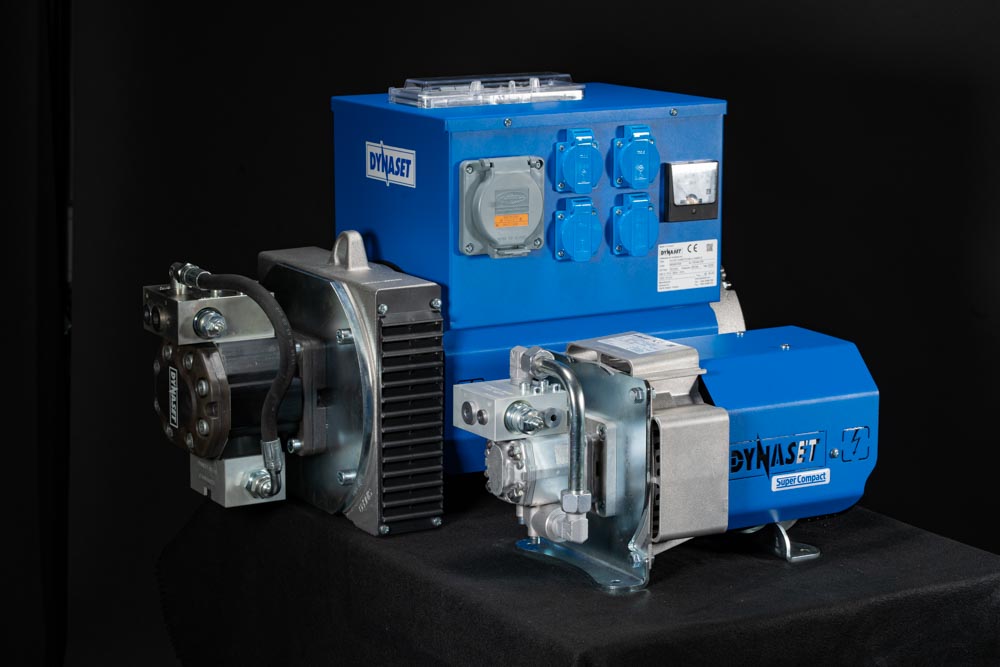 The New 50HZ Hydraulic Generator Models
Dynaset introduces twelve new 50 Hz standard Super Compact models in the power range of 3.5 kVA – 80 kVA. The hydraulic generators have an AVR Automatic Voltage Regulator built-in starting from the power rating of 6.5 kVA and above.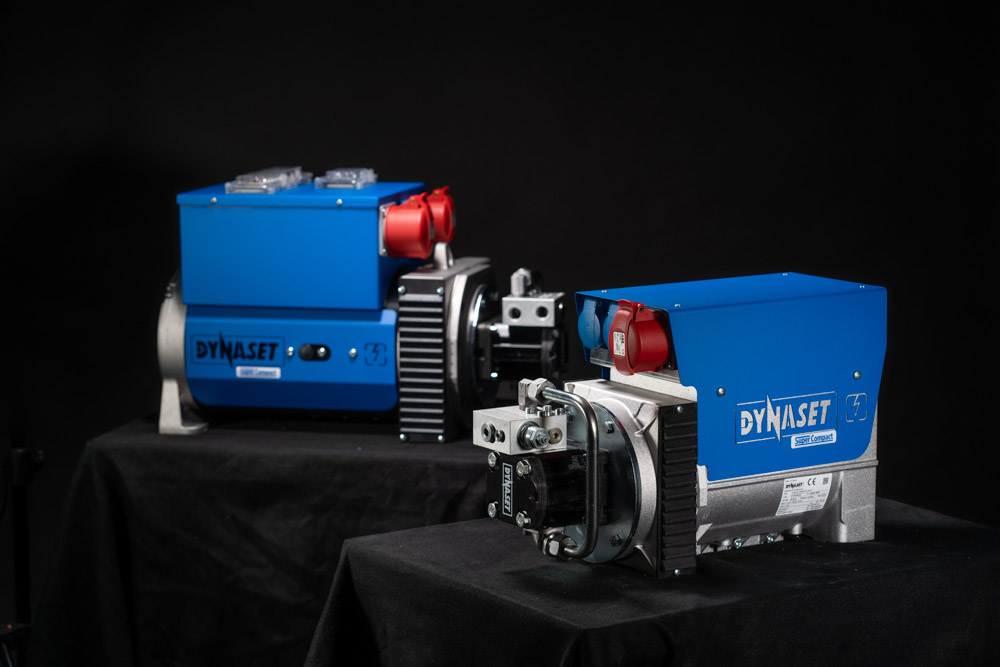 Efficient Hydraulic Motors Lower the Hydraulic Requirements
The Super Compact model DYNASET HG 3.5kVA Hydraulic Generator is smaller than the previous model and it is 2 kg lighter. The 3.5kVA 50Hz model uses a new type of hydraulic motor which is also included in a 3.7kW 60Hz model. The key improvement of the new HG 3.5kVA model is its much-improved hydraulic requirements. The hydraulic generator requires only 18 l/min of hydraulic oil flow instead of 23 l/min as in the previous model. The new model can be installed on machinery with a limited hydraulic output for example small platform lifts.
Superb Electricity Quality Guaranteed by Dynaset Technology
The new Super Compact models of DYNASET HG Hydraulic Generator produces excellent power quality. Most of the generator models have built-in AVR Automatic Voltage Regulator which provides steady voltage. Together with Dynaset automatic frequency control technology, they guarantee the best electricity quality.
DYNASET HG Hydraulic Generator Save Space and Provides More Power
The new 19kVA Super Compact model of DYNASET HG Hydraulic Generator is 35% smaller than the equivalent older model. The new model has the best power-to-size ratio in the world. Hydraulic generators save space from machines and vehicles leaving more room for tools and other equipment.
DYNASET Hydraulic Generators up to 95% Smaller than Equivalent Diesel Generators
The completely new 26kVA Super Compact model of HG Hydraulic Generator doesn't have a previous version. The DYNASET HG 26kVA Hydraulic Generator is 90% smaller than a typical equivalent diesel generator. The size difference is significant. One equivalent diesel generator takes as much space than 10 pieces of HG 26kVA Hydraulic Generators.
Dynaset is even more competitive when comparing HG 35 kVA Hydraulic Generator to a diesel generator. The hydraulic generator is 95% smaller than an equivalent diesel generator.
Size comparison in 20kW power class:
DYNASET HG 26kVA Hydraulic Generator volumetric size 0,077 m3
Typical equivalent diesel generator volumetric size 0,858 m3
DYNASET about 90% smaller
Size comparison in 30kW power class:
DYNASET HG 35kVA Hydraulic Generator volumetric size 0,090 m3
Typical equivalent diesel generator volumetric size 2,174 m3
DYNASET about 95% smaller