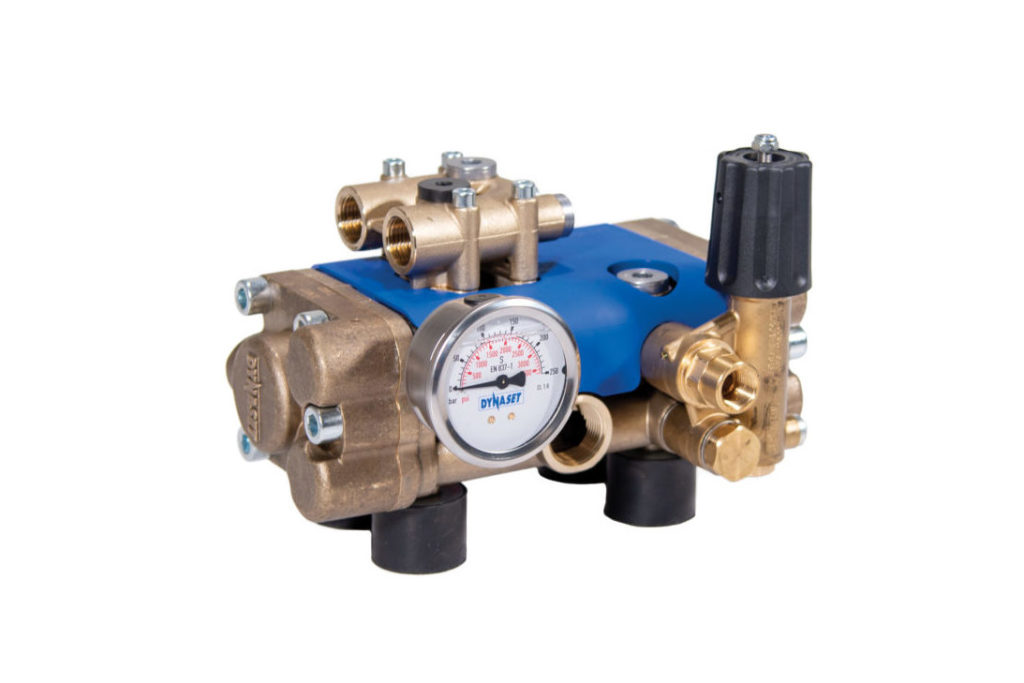 The HPW250 Hydraulic High Pressure Water Pump is introduced at Dynaset stand FN 1118/1, Bauma 2019 trade show. The new pump model produces water pressure of 250 bar (3600 psi) and water flow of 30 l/min (7.9 gpm). Thanks to the new design, the pump has the best power-to-size ratio in its class. Its output power is 12.5 kW. The unloader valve is integrated to the front of the pump which enabled substantial small size.
The forged body of the HPW250 pump is made of brass alloy which makes it extremely durable. HPW250 is self-priming. The water source can be a water reservoir, a lake or even a river as long as the water filtration is considered.
The HPW250 can be used in various applications such as pipe cleaning units, street washing units, dust suppression systems, power washers. HPW250 can be installed on any mobile machine's hydraulic system.
For more information about the pump is available in the latest Dynaset Magazine or on the video where R&D Engineer Pasi Yli-Kätkä has been interviewed. The interview is available on the video below or on Dynaset YouTube Channel.
SPECIFICATIONS OF HPW250 HYDRAULIC HIGH PRESSURE WATER PUMP
Discharge Characteristics
Pumping fluid flow max 30 l/min (7.9 gpm)
Pressure max 250 bar (3600 psi)
Power 12.5 kW
Hydraulic Power Requirements
Oil flow max. 40 l/min (10.6 gpm)
Pressure max. 260 bar (3800 psi)
Gallons are U.S. liquid gallons