In 2020 Bobcat added their own versions of KPL High Pressure Street Washing Unit into their accessories line-up. The final versions of the unit were highly tailored to meet Bobcat's and their customer's needs even better. The outcome of the tailoring project was four different special models of the unit which are fully integrated with almost all the Bobcat loaders range. Daniele Paciotti who works as Attachment Product Line Manager at Bobcat EMEA talks more about the tailoring project.
The collaboration between companies was really flexible during the period of the customization process. COVID-19 made the period difficult because we couldn't meet each other at the Dynaset factory. The modification process from my point of view was good and effective because we were able to launch the product just in two months' time. Normally this process takes about 12 months.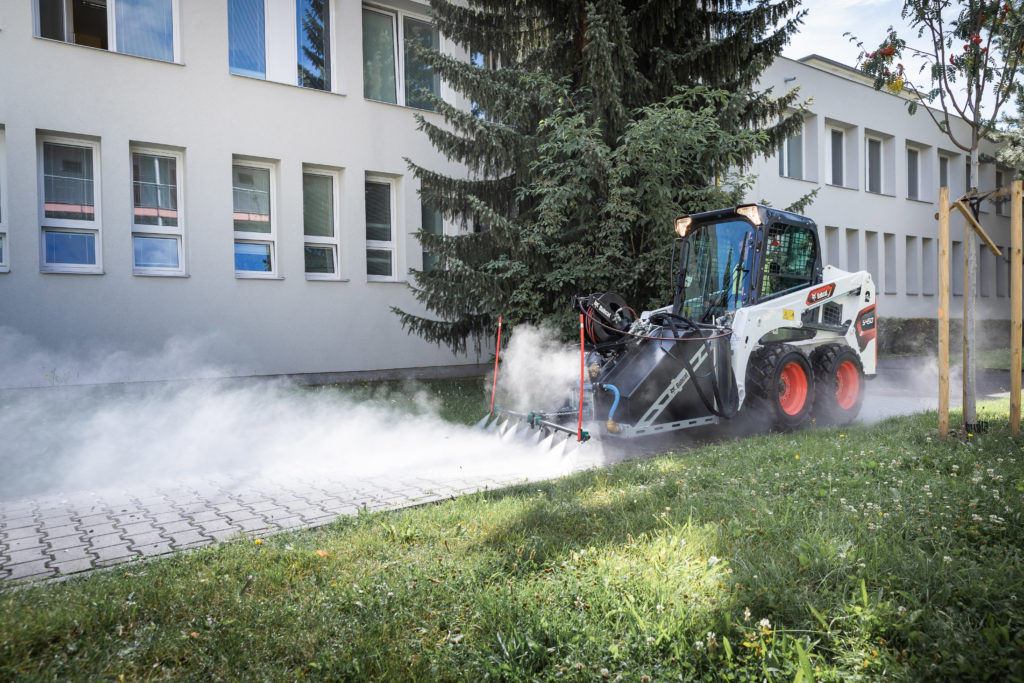 Bobcat's versions of the units have Bob-Tach Attachment Mounting System™, special 90-degree angle hydraulic quick couplers, a Bobcat design frame to facilitate the entrance, and a special control box called Attachment Control Device (ACD) alongside with multiple smaller modifications. The version is also charcoal-colored to match the usual Bobcat attachment branding.
Modifications were important to us because the Bobcat customer values the "ease of use" and "comfort of products" which means full integration. Productivity and performance are also very important to Bobcat customers. Thanks to Dynaset we were able to add Bobcat components into KPL Unit. So, the Bobcat loader recognizes the attachment when it is connected to the machine and will set the performance and controls accordingly. The user just needs to connect the attachment to the loader, jump on it, and start working. The customization was mandatory to achieve this and thanks to Dynaset's flexibility it was possible, tells Daniele Paciotti.
While this cooperation relation is still quite young, how have the customers have greeted the tailored unit so far?
We have sold already 16 [in November 2020] units and customers have said that the Bobcat attachment is really easy to use because of the total integration. Also, we have got feedback that says the attachment is powerful. As a father of this project, I am very excited to see the results coming in near future. The collaboration has been a success so far and our customers are happy, summarizes Daniele Paciotti.
Do You Have A Product Tailoring Idea?
Any product of the DYNASET lineup can be modified to meet the special needs of a certain machine brand, industry, or task. If you have such an idea, send us a message via the form below and make things happen! you can also read more reference cases about product tailoring! Click the links below to read the case!
Note: This article has first appeared in a customer magazine published in January 2021.